Registration Step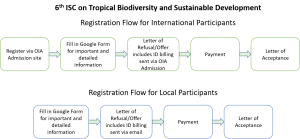 International participants must first register via OIA (Office of International Affairs) Admission site to get Letter of Offer (includes billing details) and Letter of Acceptance issued by the OIA of Universitas Gadjah Mada.
OIA Admission site can be accessed here. Required documents for registration are:
Color scanned Passport or ID Card (.pdf max 2MB)
Pass photo (.pdf max 2MB)
Local participants are only registering via Google Form and the invoice will be sent after the registration via email by the committee.
All participants (International and local) are required to fill in Google Form for important and detailed information. The form consists of:
personal information (incl. motivation letter)
Health records and Allergy form
Terms and Conditions
Proof of OIA Admission Registration for International participant (Screen shot of Enrollment History .pdf/.jpeg/.png max 2MB).
Please download Registration Guidelines "

here

"
 QA & Correspondence
Further inquiries of the programs could be conducted through the Correspondence menu in the admission system or through email via oia.biology@ugm.ac.id.